Support the Class of 2024! Check out their fall fundraiser!!

Good luck to both our Boys and Girls Soccer Teams in the County Tournament. We start off with both teams at home tomorrow - Boys at 12:00 p.m. and Girls at 2:30 p.m. Go Cats!

Niche.com, a web platform that establishes ratings of U.S. Schools and Colleges based on performance, revealed Hanover Park Regional High School District as #37 in 2022 Best School Districts in New Jersey. The Hanover Park Regional High School District received an A+ for its overall Niche rating in the academics and teachers arena. The Hanover Park Regional High School District also ranked #38 in 2022 Best Teachers in New Jersey and ranked #5 in 2022 Best School Districts in Morris County. Niche.com ranks nearly 100,000 schools and districts based on statistics and millions of opinions from students and parents.
https://www.tapinto.net/towns/east-hanover-slash-florham-park/articles/hanover-park-high-school-district-ranks-as-37th-best-school-districts-in-new-jersey

Attention future Wildcats!, Whippany Park is hosting an Open House for all 8th Grade Students and Parents on Thursday, October 21, 2021 at 6:30 p.m. We are looking forward to welcoming the Class of 2026 to the WP Family! See the flyer for more information.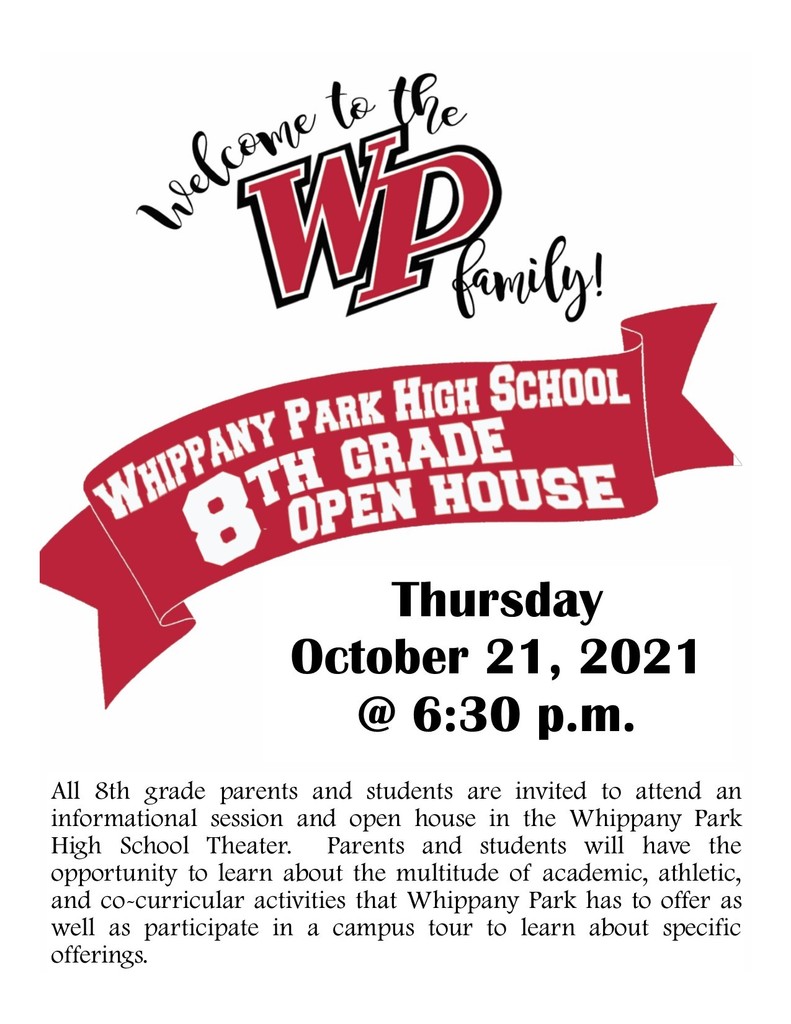 Wildcats, Whippany Park has won a 3rd consecutive College Success Award from GreatSchools.org. for excelling in the preparation of students to enroll and succeed in college. In 2021, only 1,838 high schools from 25 states won the College Success Award! As this is our third year in row, we have now achieved Gold Status... keep up the great work!

It's great to see our students back in action... Mr. Braine's Physics class studying velocity and Mrs. Pfarrer's Mindfulness & Wellness class creating calming jars. Keep up the great work!

Congratulations to the WPHS September Students of the Month - Sunnina and Radon. Keep up the great work!

Great weekend for the Cats!

Wildcats, What a great weekend! Football, Girls Soccer, and Field Hockey all came away with big wins! The Cheerleaders, Pride, & Color Guard impressed us all during the season's first Friday Night Home Game where we honored our first responders. Great to be back! Go Cats!

Dear Hanover Park Regional High School District Community, Over the course of last night into today, the district has been in close communication with the Offices of Emergency Management and our local Police Departments. We have been monitoring the Whippany and Passaic Rivers since the historic rains we have received this week. We were hopeful over the course of last night into this morning that the rivers would not exceed their current levels. However, recent forecasting reports and our local officials have informed us that the Whippany and Passaic Rivers will begin to rise over the next 24 hours. As waters rise, there is a possibility that our buses may not be able to access specific areas within our neighborhoods. We need to ensure that all of our students get home safely. In order to ensure the safety of all of our students, we will activate an Emergency Early Dismissal today, Friday, September 3. Hanover Park students will dismiss at 12:05 p.m. and Whippany Park students will dismiss at 12:30 p.m. Practices, scrimmages and extracurricular activities are canceled for today. Any regular season athletic event scheduled for today will be postponed. The district will continue to be in constant contact with our local officials to make determination for weekend events. Thank you for your continued cooperation. Sincerely, Maria Carrell, Superintendent of Schools

Wildcats, Please note that due to today's closure, the WPHS picture day has been moved to Thursday, September 9th. If you have any questions, please contact the main office of the high school at 973-887-3004.

Due to flooding in the area causing roadway closures and weather related impacts to our building and fields, Whippany Park will be closed today, Thursday, 9/2. All athletics and co-curricular activities are canceled as well.

Great to see the Pride back in action tonight! Welcome back!


Congratulations to Daniel Korzen, WPHS 2021 graduate, who successfully completed his independent study by performing his original composition - "Swedish Chef". We hope you enjoy it!
https://youtu.be/u7z1VUGAfA0

We are excited to be launching our new website and app soon! Stay tuned for more information!

Congratultiaons to our Group 1 State Champion and NEW SCHOOL HIGH JUMP RECORD HOLDER - SAVANNA MARCANTONIO - We are proud!

Congratulations to the North 2 Group 1 State Sectional Champions - Keep Diggin Girls